Relaxing between flights in Beijing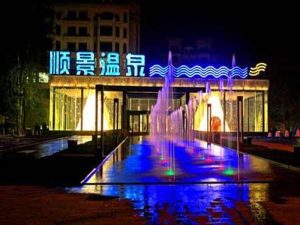 With the cost of a China tourist visa for UK citizens up to nearly one hundred and fifty pounds this year I resolved to give the mainland a miss, and head for Taiwan. Great price on a return ticket, but a twenty-two hours' gap between flights at Beijing needed filling.
The last time I had a night between flights to kill in Beijing the evening started with a pub session with an old university pal, then continued with a search for a room. This proved fruitless – no room at the inn for me as a foreigner – until a flash of inspiration had me hail a cab, and direct it to a "有温泉的地方 has hot springs place".
'Hot springs' establishments are widely distributed throughout China, most fair-sized towns having one. If you just need to get your head down overnight, and are not in need of a private room, they can be a wonderful alternative to a hotel room, as many have a large room furnished with numerous reclinable couches on which patrons may relax and sleep, following enjoyment of the delights of the venue.
An online search showed the Shun Jing Hot Springs 顺景温泉 resort around one mile northeast of San Yuan Qiao 三元桥 the first stop on the train line linking the airport with Beijing city centre.
Beijing was dark, cold and misty as I emerged from the light and warmth of the shopping centre that tops San Yuan Qiao station. With too few taxis, and discouraged by a cab driver's ignorance of the resort, I set off in what my compass indicated as being its location, only to be foiled by a seemingly uncrossable tangle of highways separating me from my target. On the verge of giving up and heading back for a night at the airport, my luck changed with the arrival of a taxi complete with learned driver, who soon had me at the watery complex.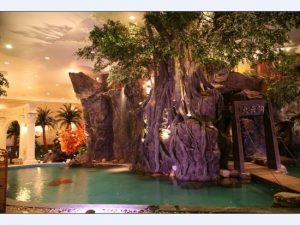 Shun Jing Hot Springs displays a certificate from Guinness hailing it the 'World's Largest Hot Springs resort complex' . It has geographically-themed areas including those for Japan and South Asia, fair-sized swimming pools for kids and adults, small wallowing pools of different temperatures, toe-nibbling fish, dead skin removal by wet flannel wielding experts, several different kinds of massage therapies, bars serving snacks and draught beer at English pub prices, and a dining room with set price buffet breakfast, lunch and supper. The two hundred and nine renminbi (around twenty-four pounds) ticket is valid for twenty-four hours, and includes dips in all the pools and a sleep on your own personal couch in the spacious dormitory.