Spawn of Snow Treasure Peak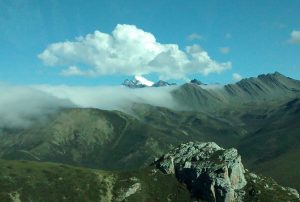 Internal tourism is big business in China. Along with weather reports for major cities Chinese TV includes the data for Jiuzhaigou. This 'Nine Stockades Valley' now has an airport and a motorway connection to the regional capital. Consequently, the getting-away-from-it-all element of the area is greatly diminished.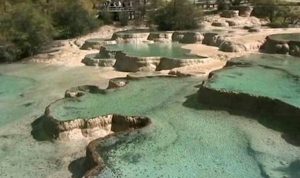 It was mid-afternoon under a leaden sky, having passed the extensive spread of hotels and shops, the bus was heading ever on down further into the gloom. Craving light, I beat a retreat, up and out of the valley, back to the realm of Snow Treasure Peak.
Join me on a ten minutes' journey of delight !

or if time is pressing, this is the three minutes' version:
Let's head over to another delightful water feature, this one way down through Sichuan on its southwest border.