Gorges missed, viewed and compared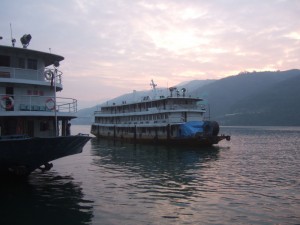 Sleeping through Gorges
The ship cruises a hundred miles upstream through the hours of darkness. When I awake around dawn the journey's nearly over, soon my destination Fengjie comes into view. I have completed a Three Gorges cruise without seeing a single gorge.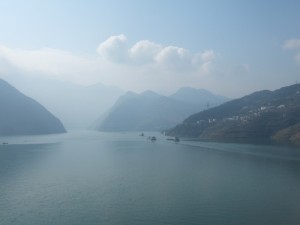 Viewing the Gorges
A fast passenger ferry, with a small open viewing hatch both port and starboard for tourists, a television for regulars, and a cockpit for the driver, takes me back through the west and middle gorges to Badong, where, following a stroll around town and taking in the view from its bridge, I hop on a ferry to enjoy a second viewing of the middle 'Witches' gorge, before disembarking at Wushan.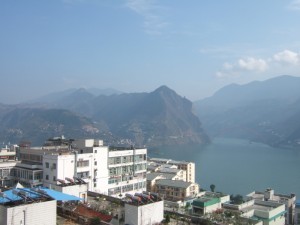 Pushing the boat out in Wushan
is what I did having arrived, through booking into a room at the classy Wild Goose City hotel, one affording what must be the best view in town. Wushan is the main stopping point on Three Gorges cruises. The town abounds in history and literary connections, and in sculptures commemorating the former and celebrating the latter.
Best gorges? China, Taiwan or England?
Those gorges were pretty good but I wouldn't rate them especially. They remind me of Cheddar gorge, which I feel is probably a bit better, but then again in Cheddar I'm plodding up it pushing a bicycle, or whizzing down through it, whilst here I've been standing at the entrance-way of a hydrofoil. The flooding of the gorges for the dam has destroyed the close up and personal feeling a passage along the former river gave to the gorges, whilst in Cheddar you are right up close to towering walls of limestone as you make your way along the road. Taroko gorge in Taiwan, like Cheddar is noteworthy when it comes to the subject of gorge comparison. Unlike 'the Three' and Cheddar, Taroko isn't limestone, it's marble, a rather more interesting stone for lining a gorge as its wearing down by the grinding of river-borne particles produces smooth beautiful curved patterns, as well as lovely natural bathing pools along the lengths of its feeding branches. So my present rating of gorges is first Taroko, second Cheddar, third the Three.
(The above continues the story from Preparation for a Three Gorges Cruise.)
There are more gorges to cruise north from Wushan – the 'Little' and the 'Mini Three'.